#suhitjeevantrust
Loksatta Sarvakaryeshu Sarvada, the decade-long celebration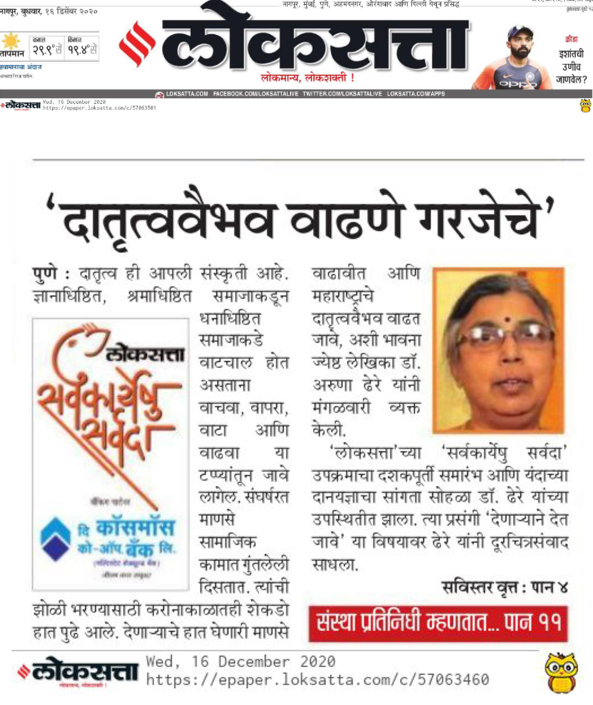 Loksatta Sarvakaryeshu Sarvada, the decade-long celebration
Loksatta Sarvakaryeshu Sarvada, the decade-long celebration of this initiative and the closing ceremony of this year's Danayagna on 16th December 2020 Passed through a web conversation on Tuesday, 2020. On that occasion, famous writer Hon'ble Dr. Aruna Dhere's lecture was organized.
Hon'ble Shri. Milind Kale, (President-Banking Partner, Cosmos Bank) Hon'ble Shri. Girish Kuber (Editor-Dainik Loksatta), and Hon'ble Shri. Mukund Sangram (Assistant Editor-Dainik Loksatta) were also present during the interaction.
The concept of the Loksatta Sarvakaryeshu Sarvada Project has always been very big. And the major aim was to create a greater public awareness and to motivate charity.
We experience that there was a great response from the people of giving and donating even in this global pandemic.
Hon'ble Shri. Girish Kuberji (Editor-Dainik Loksatta) said that the initiative was launched with the objective of enabling well-functioning organizations in the society to take their work forward and to make these organizations responsible for their work. And this year marks the tenth anniversary.
In these ten years Loksatta has created a huge impact on social sectors as well as towards NGO's by successfully organizing and facilitating this global initiative.